Cinefex number 5 July 1981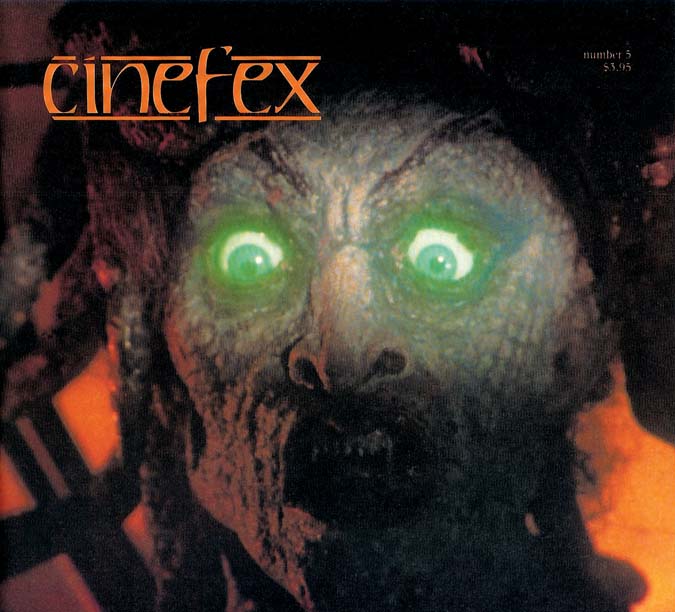 Articles
Ray Harryhausen — Acting Without the Lumps
Ray Harryhausen is probably the only special effects artisan readily identified as the prime creative force behind the films with which he is associated. The enigmatic grandmaster of animation discusses with candor his formative years, his feelings about fantasy and filmmaking, and the highs and lows of a singular career which has spanned more than three decades. Interview by Vic Cox.
Clash of the (Foot-Tall) Titans
For his sixteenth feature film, Ray Harryhausen has returned once again to the world of classical mythology. For the first time, however, he did so in the company of two associate animators. Jim Danforth and Steven Archer. Together, the three discuss the origins of the project and the many months of postproduction involved in bringing Harryhausen's most ambitious film undertaking to the screen. Article by Don Shay.
When grandiose special effects are required "live" during main unit photography, the job is likely to fall to effects expert Roy Arbogast. Arbogast, a veteran of both Jaws films, Close Encounters of the Third Kind, Dracula and The Incredible Shrinking Woman, discusses the field of mechanical effects and his varied work in a wide range of contemporary features. Article by Jordan Fox.
Writer-director Carl Gottlieb's irreverent sendup of the prehistoric melodrama provided fertile ground for some decidedly unique stop-motion work. Effects supervisors Jim Danforth and Dave Allen, animators Randall William Cook and Pete Kleinow, and optical technician Spencer Gill discuss the tempestuous production. Article by Scott Vanderbilt.
— article descriptions via Cinefex 5, table of contents
Index
People
Abbott, L.B.
43
Allen, David
55-64, 66-71
57, 65, 69
Alves, Joe
43-44, 48, 56, 59
Arbogast, Roy
42-53, 67
42, 44-45, 49-51, 53, 68
Archer, Steven
22-24, 29-31, 38-41
32, 36, 40
Armstrong, Todd
15
Arthur, Colin
25-26, 52
29
Aupperle, James
55-56, 59
Cox, Vic
18
Dykstra, John
43
Harryhausen, Ray
4-41, 56, 71
Vanderbilt, Scott
71
---
number 5