Cinefex number 4 April 1981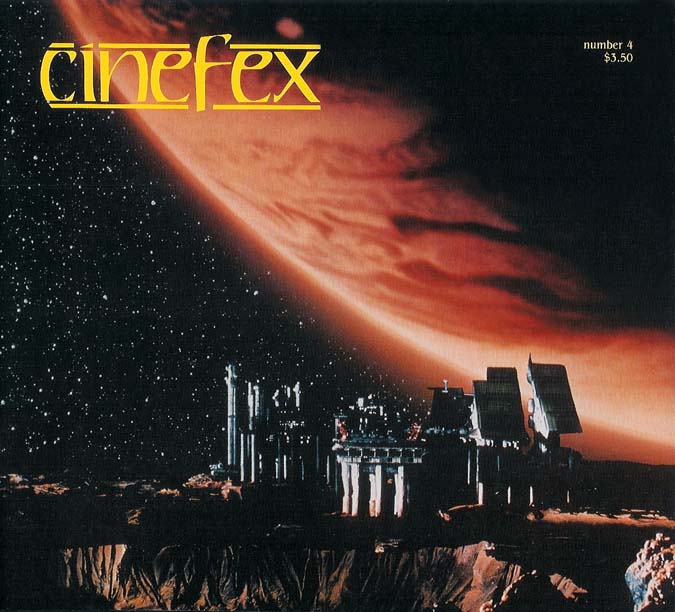 Articles
Outland is the first motion picture produced by The Ladd Company, whose management — formerly of 20th Century-Fox — inaugurated the current science fiction boom by giving George Lucas a chance to launch his Star Wars saga. It also marks the first major employment of Introvision — a new real-time matting system by which actors can be placed into front-projected plates. Writer-director Peter Hyams discusses his concept for the film and details some of the challenges involved in bringing the project to fruition. Providing added commentary are director of photography Stephen Goldblatt, special effects supervisor John Stears, model-maker Bill Pearson, plate photographer Douglas Dawson, and Introvision team members John Eppolito, Tom Naud, William Mesa and Tim Donahue. Article by Don Shay.
The Altered States of 'Altered States'
After barely surviving the trauma of going through two major film studios, two directors, two production designers, and two special effects units — not to mention an array of ever-changing concepts and a writer who disowned the project — Altered States emerged from near-oblivion in remarkably healthy condition. Production designer Joe Alves and special effects supervisor John Dykstra discuss their involvement in the aborted Arthur Penn production. Then, visual effects coordinator Bran Ferren, director of photography Jordan Cronenweth, production designer Richard McDonald, and optical effects expert Robbie Blalack elaborate upon the regenerated Ken Russell version. Tying the narrative together is special makeup artist Dick Smith, and his assistant Carl Fullerton, who rode out the production maelstrom from beginning to end. Article by Paul Mandell.
— article descriptions via Cinefex 4, table of contents
Index
People
| | |
| --- | --- |
| Allder, Nick | 9 |
| Alves, Joe | 33-35, 37-42, 45-46 |
| Chayefsky, Paddy | 33-35, 37, 42, 45-49, 54 |
| Dykstra, John | 33-34, 37, 41-45, 49, 65 |
| Pearson, Bill | 9-14, 25 |
Terms & Techniques
air mortar
26
animation stand
69
52, 67
computer generated imagery
54, 66-70
32, 63, 65-68, 71-72
flying rigs
22, 29-30
miniatures
9-14, 22-25, 30
production design
9, 34, 38, 42, 46
---
number 4