Cinefex number 2 August 1980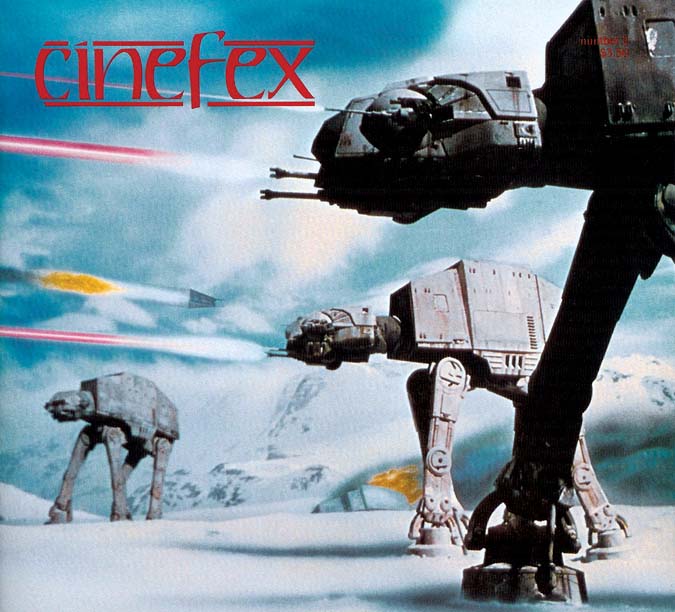 Articles
Of Ice Planets, Bog Planets, and Cities in the Sky
As special effects supervisor for The Empire Strikes Back, Richard Edlund was responsible for reestablishing the Star Wars effects facility and presiding over the production of some four hundred optical effects shots. A seasoned veteran of the original Lucasfilm epic, Edlund discusses how three years of advancing technology, coupled with a top-notch technical crew, enabled Industrial Light & Magic to segue into an even more complex project — and with better results. Interview by Don Shay
Greg Jein — Miniature Giant
From a less than auspicious beginning sculpting spacecraft models for porno parodies and student films, two-time Oscar nominee Greg Jein has become — in five short years — one of the giants in the field of movie miniatures. In addition to detailing his early work, accounts are provided of his landscapes and mothership for Close Encounters of the Third Kind, the remarkably detailed settings for 1941, the V'ger interior and spacewalks props for Star Trek — The Motion Picture, and the add-on work for the Close Encounters reissue. Article by Brad Munson.
Star Trekking at Apogee with John Dykstra
Approximately one third of the optical work in Star Trek — The Motion Picture was produced under the supervision of John Dykstra at his Apogee effects facility. Covering Apogee's involvement from stem to stern, Dykstra discusses in detail the Klingon and Epsilon 9 sequences and the exterior V'ger passage. He further elaborates on Apogee's approach to the digitization and energy probe effects, as well as some old standards such as transporter beams and photon torpedoes. Interview by Don Shay.
— article descriptions via Cinefex 2, table of contents
Index
Films
Alien (1979)
41
Altered States (1980)
51, 56
Andromeda Strain (1971)
51
Close Encounters of the Third Kind (1977)
24, 31-32, 34-36, 72
Empire Strikes Back (1980)
4-23
Star Trek: The Motion Picture (1979)
42-45, 49-71
46-48, 50, 52-55, 57-58, 61-63, 65-70
People
Abel, Robert
7, 52, 63, 67
Albright, Larry
30
Alexander, Richard
60
Allen, David
30
37
Anderson, Peter
30
Dykstra, John
7, 50-71
Edlund, Richard
4-23
Jein, Greg
24-49
Munson, Brad
49
Trumbull, Douglas
28, 32, 46-48
---
number 2