Cinefex number 11 January 1983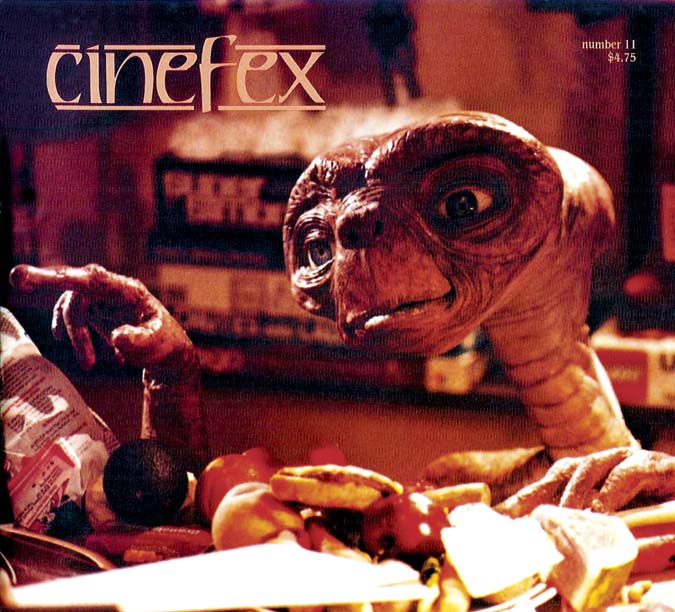 Articles
Turn on Your Heartlight — Inside E.T.
With $300 million in the till at year's end, E.T. is well on its way to becoming the most popular and profitable motion picture of all time. Superstar director Steven Spielberg and production supervisor Frank Marshall provide a comprehensive overview of E.T. — both the film and the phenomenon. Construction and activation of the celebrated extraterrestrial is discussed by Carlo Rambaldi, enhanced by contributions from Mitch Suskin, Robert Short, Caprice Rothe and Craig Reardon. Then, Industrial Light and Magic effects supervisor Dennis Muren — aided by fourteen members of his crew — reveals thesecrets behind E.T.'s flying bicycles, spaceships and other magical elements. Article by Paul M. Sammon.
Special Visual Effects — Robert Swarthe
His contributions to the Close Encounters ensemble ranged from the flamboyant luminosity of the mothership underbelly to the subtle insertion of countless starlit skies. For Star Trek — The Motion Picture, he designed and supervised the vertiginous undulating wormhole interiors and the dazzling transcendence at the end. In the Close Encounters — Special Edition, he took us at last inside the awesome and wondrous alien mothership. Two-time Oscar nominee Robert Swarthe traces his way through these landmark effects productions, delves into his earlier animation work, and discusses his most recent efforts on behalf of One From the Heart and The Outsiders. Article by Don Shay.
— article descriptions via Cinefex 11, table of contents
---
number 11